The Best Metronomes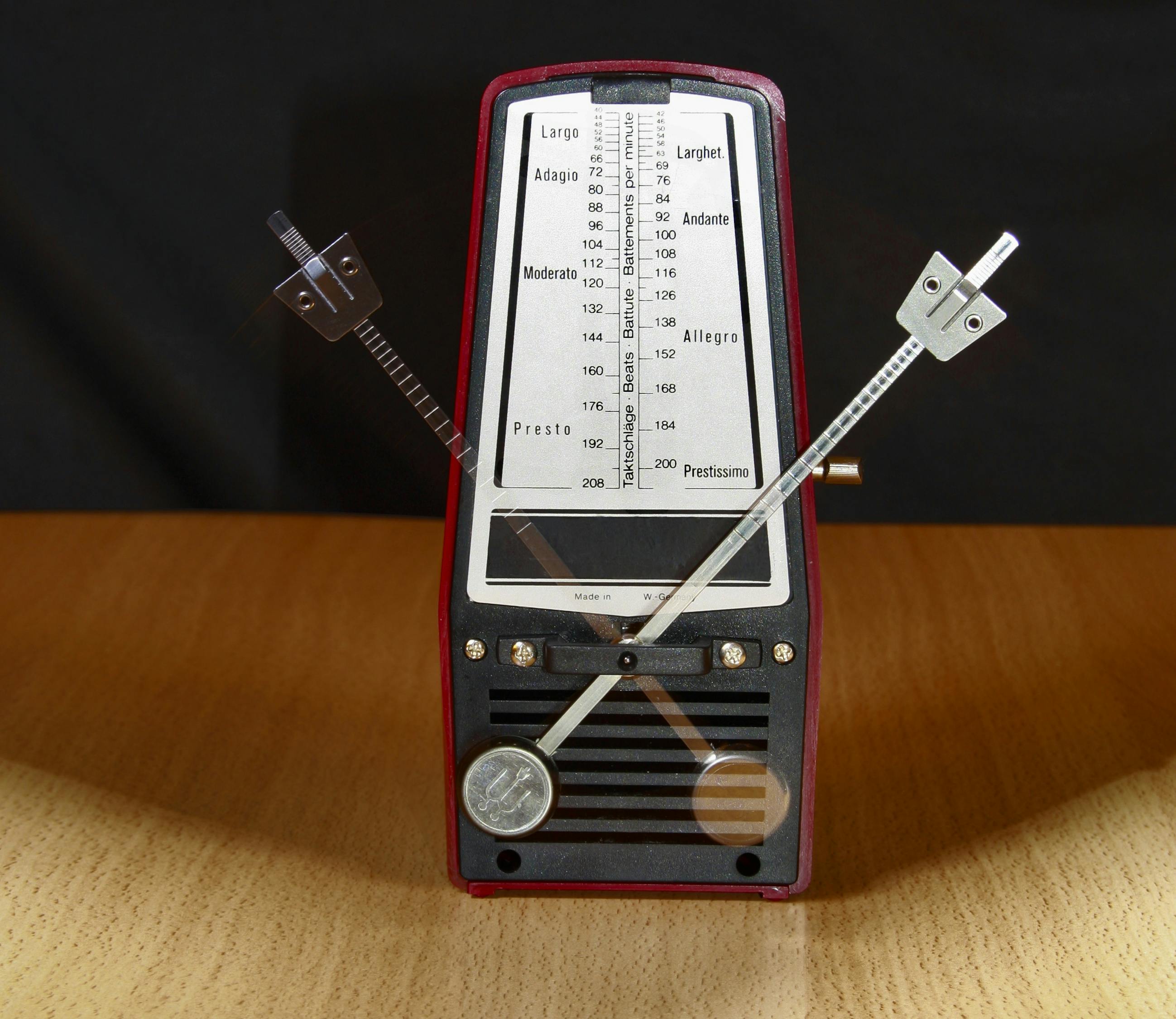 Metronomes are crucial devices for learning how to properly keep time. Though the classic pyramid-shaped metronomes with mesmerizing pendulums are still around and reliable as ever, there are plenty of digital and quartz models that are worth checking out. We've compiled a list of the best metronomes the market has to offer from all-in-one tuners and timekeepers to mobile models for the touring artist.
KLIQ MetroPitch
The MetroPitch from KLIQ will keep you on tempo and in tune.
If you're looking for a metronome that does more than just keep time, the MetroPitch from KLIQ should be your first choice. The handy electronic device functions as a tuner, tone generator, and timekeeper. Because let's face it: we never tune our instruments as much as we should. To help you out, it features preset tuning modes for guitar, bass, ukelele, and violin, along with its manual tuning range from A0-C8. The actual metronome feature has a wide range from 30 to 250 beats per minute, which you can adjust via the jog dial.
Pros:
Features a dynamic speaker and built-in headphone jack
Travel sleeve for safe transport
88-note tone generator useful for training ear and tuning
3-year warranty
Cons:
Metronome feature has no start/stop button
Ueteto Mechanical Metronome
Ueteto gives a modern take on the timeless mechanical metronome with a bright range of colors to choose from.
Though the design may be timeless, make no mistake that this mechanical metronome from Ueteto does its job beautifully. Simply remove the brake, take off the cover, slide the pendulum's weight, and begin to play. This metronome has a bell to mark the beginning of each new measure, which can be helpful for those beginning their musical practice. You won't have to worry about replacing batteries thanks to the wind-up mechanism that can last as long as 18 minutes. With an appealing array of colors, this Ueteto packs a pretty punch.
Pros:
Features bell to mark new measures
Straightforward and easy to use
Aesthetically attractive colors and classic look
Cons:
The wind-up mechanism may frustrate some users
Seiko SQ50-V Quartz Metronome
The pocket-sized SQ50-V from Sekio has a flashing light option that's ideal for performances.
For musicians on the go, the Seiko SQ50-V is an ideal pick. Similar to the way many modern wristwatches work, this metronome utilizes a small quartz crystal to ensure proper timekeeping. Setting the metronome is easy, thanks to a 39-position rotary dial that ranges between 40 and 208 beats per minute. You can pick from two different sounds for the tempo and beat or just rely on the LED light atop the device during performances. Though this metronome is one of the smallest on the market, it's still loud enough to hear over your piano, violin, or guitar.
Pros:
Small and portable
2 different sounds to choose from for beat and tempo
Red LED light useful for timekeeping over louder instruments
Cons:
 No additional features for tuning
Wittner 836 Taktell Piccolo Metronome
If you love the classic look but are low on space, check out this Wittner metronome that fits neatly on your piano's music rest.
Wittner 836's Taktell Piccolo provides supreme quality in a compact size. Wittner isn't playing games with this construction. Cased in brown or black plastic, it uses a precise wind-up mechanism to keep rigid time. The weighted pendulum is delicate but durable, not to mention trustworthy. Made in Germany, Wittner metronomes are known for their clear, crisp time-keeping sounds, as well as their notable quality. If you're looking for something to keep time without messing around, Wittner is the way.
Pros:
Straightforward and reliable mechanics
Delivers clear, crisp "clicks"
Small enough to fit in piano music rest
The wind-up mechanism does not require batteries
Cons:
No bell, which can be useful for beginners
A little on the pricey side
BOSS DB-90 Dr. Beat
Thanks to the integrated rhythm coaching system, "Yes, BOSS" has never sounded so good.
Complete with 4 different metronome sounds, a tone generator for tuning, a rhythm coach function, and multiple drum patterns, this is the BOSS we're happy to follow. The metronome sounds range from a traditional click to a human voice to help you find your place in time. These different sounds might sound off-putting, but they can actually be really helpful, especially for first-time players. If you're really trying to DIY the music learning process, the rhythm coach feature can be accessed by plugging in an electric drum pad, guitar, or bass and following along with the preloaded beats. When you're ready for the next step, mix your own rhythms by utilizing the front-panel sliders and rotary dial.
Pros:
4 different metronome sounds for variety
Tone generator assists with tuning
The rhythm coach is ideal for practicing along with some accompaniment
Cons:
The plastic construction doesn't stand up to firmer, metal-plated models
Frequently Asked Questions
Are quartz, mechanical or digital metronomes the most reliable?
While a purist would be a proponent for the mechanical metronome, the reality is that most modern metronomes of reasonable quality should be just as reliable. If you're a fan of your quartz movement watch, you might be more inclined to trust the clear crystal to keep your time. Alternatively, digital metronomes often come packed with the most features, which can make them an appealing and practical buy for long-time players. The one area where mechanical metronomes outshine the rest is longevity since you won't have to replace any batteries in the middle of a practice session.
How do I choose the right metronome for my instrument?
This depends on how loud your chosen instrument is. Drum players will certainly favor a digital metronome with an integrated headphone jack or a model with an LED light addition, whereas piano players might be more attracted to the classic tick-tock of a mechanical metronome. String players might be keen on the integrated tuning features on newer digital models, especially when it comes to electric guitar and bass. Luckily, we've included a metronome for every musician on our list so you can spend less time searching and more time making music.
About the Author
Why Trust Us
With the constantly shifting landscape in the world of technology, GameRevolution seeks to provide gamers and tech-enthusiasts with the information they need to select the right products for their needs. Since 1996, our experts have used their knowledge on all the latest gadgets – everything from headphones to standing desks – to help millions of people navigate specs and answer common questions.