The Best Foosball Tables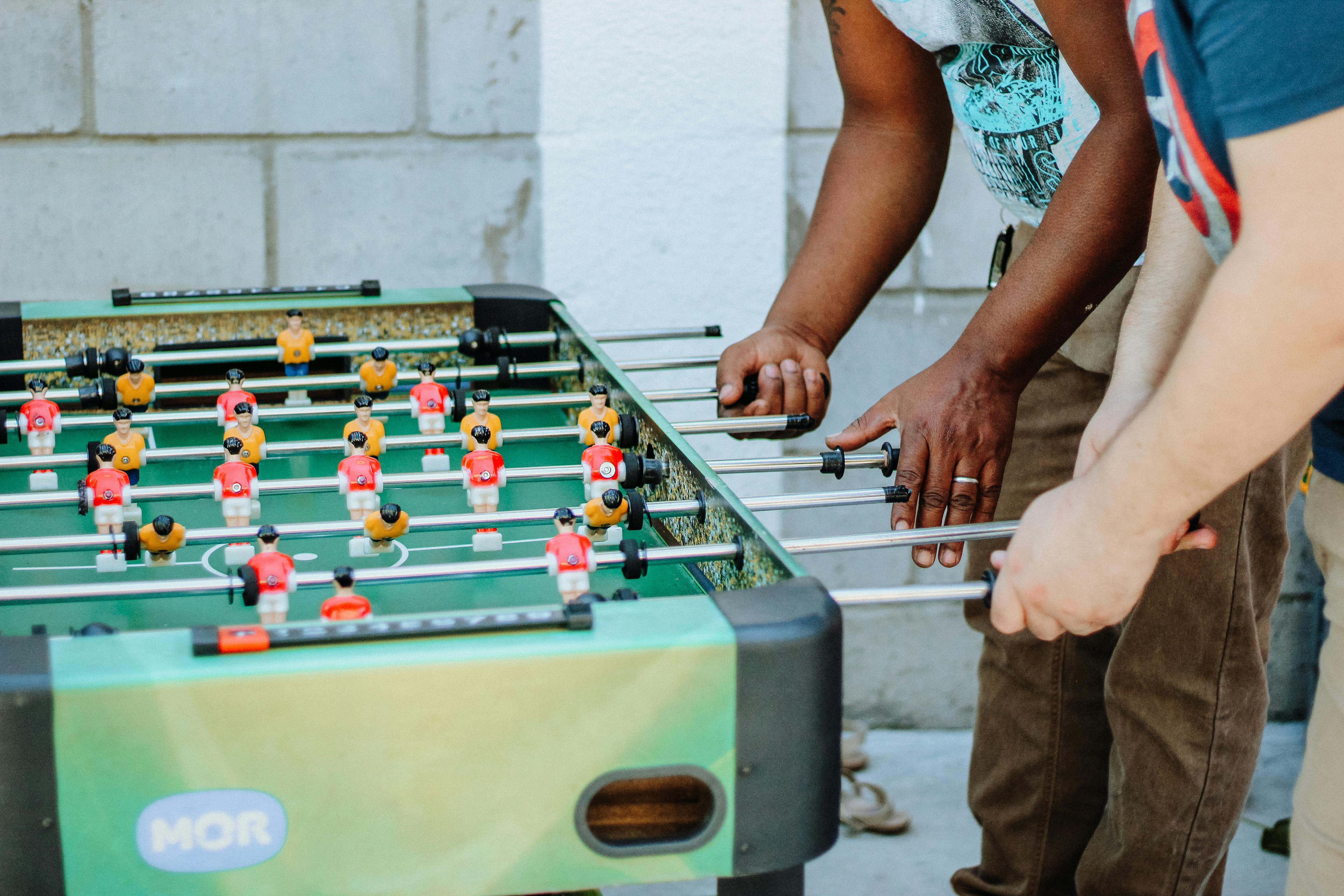 Whether you've just redesigned your game room, your kids are spending too much time on their tablets or you're itching to bring the arcade experience home, you've found yourself in search of the perfect foosball table. Your head is spinning with questions about regulation size, at-home assembly, product materials, and more. To save you from any more headaches, our round-up pays close attention to durability and assembly. After all, the last thing you need is a table that's too flimsy for energetic teens or one that's impossible to put together. Check out our compilation of the best foosball tables for all your gameplay needs, ranging from an all-in-one-arcade to a professional pitch at half the price.
Best Choice Products 48-Inch Foosball Table
There's little competition for this table, especially for first-time buyers.
If foosball is your game and first-time buyer is your name, look no further. This foosball table is a tad smaller than regulation size, making it ideal for beginners of all ages to develop their skills. At 33 inches, the height makes this table especially kid-friendly. Don't worry about the longevity of this pitch, either. Best Choice Products uses sturdy composite wood and chrome-finished steel rods to ensure durability for years to come. Though this table isn't full of flourishes, it does include the classic sliding scorekeeper and two handy cupholders for games that go into overtime.
Pros:
The smaller size makes it ideal for tighter spaces
Realistic, clean finish on the composite wood
Suggested age is 3+, meaning no one sits on the sidelines
Cons:
Assembly can be challenging if you rush through it
Giantex 3-in-1 Multi-Game Table
Including pool and glide hockey, this foosball table scores a hattrick with ease.
The Giantex 3-in-1 table makes game night a breeze. Start out the evening shooting pool on the blue billiards table, complete with a ball set, cue, and triangle. When you've sunk the 8-ball one too many times, top the table with the glide hockey addition and knock around the puck for a bit. Trade out ice for grass by flipping the rink upside down and round out the night with a heated foosball tournament. With so much included for so little, it's no wonder the Giantex 3-in-1 scores big points on our list.
Pros:
32.5-inch total height makes it accessible for kids
 Leg levelers allow for an even playing field
The reversible portion locks into the base, providing ample stability
Purchase includes everything needed for gameplay
Cons:
Glide hockey doesn't stand up to true "air hockey" experience
Billiards pockets are a touch small
Rally and Roar Tabletop Foosball
Rally and Roar's tabletop model ensures you're not trading portability for performance.
Cornhole and Kan-Jam have some stiff tailgate competition; though foosball is normally relegated to game rooms or pay-to-play arcades, Rally and Roar are bringing it to a foldable table near you. Fine-tune your ball handling and scoring skills with this miniature version of the classic game, ideal for two adults or four kids. While cheaper portable pitches are plastic, this model is made of the same composite wood that regular tables use, making it sturdy and durable. Your players have plenty of strength, too, thanks to chrome-plated bars and non-slip rubber gripping.
Pros:
Portable and still a reasonable length at 40 inches
Durable composite wood construction with a padded base to prevent scratching
Includes pre-assembled players
Cons:
Not the most stable, especially for aggressive spinners
ESPN Arcade Foosball Table
Bring the arcade home with this slick and sturdy model from ESPN.
Completing your Sports Center man cave has never been easier. The ESPN Arcade Foosball Table fits right in design-wise — just make sure you have the space for it. It's short of regulation size by just a few hash marks, so the recommended room size is no less than 6 by 8 feet. This model also has increased durability with 5/8-inch diameter chrome-plated metal rods, which are slightly thicker than the other products we've mentioned. With a clean and classic look, this is definitely worthy of the Sports Center Top 10.
Pros:
Oversized leg levelers allow for an even playing field
Full-paneled leg support provides maximum stability
Players are easily assembled without tools
Cons:
Pressboard laminate is not as durable
 Complicated and long table assembly
Warrior Table Soccer Pro Foosball Table
This pro-quality pitch at half the pro-price makes it a must-have for dedicated foosball players.
Though this table might seem pricey at first, there's no denying its professional quality far exceeds the listed cost. Something as simple as a no-hose ball return makes this model more reliable and durable than its counterparts. Wooden handles and counter-balanced players drastically improve the user's touch and ball control. For those who might favor a heavy-handed approach, the rod guard system keeps opponents safe from stray rods. It's rare to find a reasonable regulation table anywhere except a sporting goods store, making this Amazon pick an even more attractive buy.
Pros:
Tournament certified by both USTSF and ITSF organizations
Counter-balanced players
Integrated leg levers with swivel base, allowing for even gameplay
Cons:
Very heavy at 195 pounds
Longer assembly than advertised
Frequently Asked Questions
What is regulation size and how important is it?
Regulation size tables measure 56″x 30″x 36″ (LxWxH), but you probably don't need to be concerned if your table doesn't meet the standard. First-time buyers, especially those with kids in mind, should consider how long they want to keep their foosball table around. 48-inch tables can provide plenty of space and gameplay while proving a better fit in tighter spaces. We'd recommend holding off on a bigger table until you or your child know that foosball has gone from a pastime to a passion. Nonetheless, pro-level tables tend to be more durable, so keep an open mind if you or your teen is looking to "foos" for years to come.
Why are most tables made of composite wood or pressboard laminate?
Composite wood and pressboard laminate have additional flexibility and a slight springiness to them, meaning they're ideal for lining and constructing foosball tables. That way, your pseudo-pitch isn't pockmarked with dents after one game and the table doesn't splinter if someone plays a little too aggressively. Just be sure you know what you're buying, so you're not kicking yourself when the table shows up.
About the Author
Why Trust Us
With the constantly shifting landscape in the world of technology, GameRevolution seeks to provide gamers and tech-enthusiasts with the information they need to select the right products for their needs. Since 1996, our experts have used their knowledge on all the latest gadgets – everything from headphones to standing desks – to help millions of people navigate specs and answer common questions.